VAT No: 158769745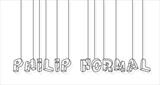 London, UK
Pop adventure. 45 Brixton Village SW9 8PR ! Artist collaborations. Awesome print. Instagram = @PHILIPNORMAL...
Frankmusik X Philip Normal
I first met Vincent Frank, AKA Frankmusik, at a club called Kashpoint in the early 00's. A creative anything goes arty drunken night out. Kashpoint was awesome.
For Vincent's new album, we have been collaborating with photographer Danny Land. Check them out, and the video to the single Ephemeral Summer.
TWITTER.COM/THEFRANKMUSIK
TWITTER.COM/DANNY_LAND
TWITTER.COM/PHILIPNORMAL
WWW.PHILIPNORMAL.CO.UK