VAT No: 158769745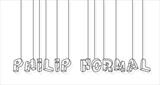 London, UK
Pop adventure. 45 Brixton Village SW9 8PR ! Artist collaborations. Awesome print. Instagram = @PHILIPNORMAL...
JYLLE NAVARRO FOR HAPPY SHACK -
We LOVE Jylle Navarro at the Happy Shack. Last year she graduated from Middlesex and since she has been making MONSTROUS punky knitted pieces for the likes of Pete Burns. She Rocks. She, like us, LOVES NEON! and wool, and these pieces are inspired by the original punk jumpers of the 70's and 80's, and are a great price for one off knitwear from this up and coming designer!