VAT No: 187341488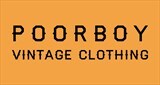 Hull, UK
All orders shipped on Mondays and Thursdays via DHL Express with tracking number 📦💨
WHAT TO WEAR ON A CITY BREAK
Last week I visited Copenhagen, the capital of Denmark. I checked the weather forecast to help me decide which of my favourite vintage pieces to pack.
We wandered the city being inspired by the beautiful street art; I wore my Poorboy remade denim pinafore teamed with my '70s embroidered floral shirt with a lace up fastening. Embroidery is everywhere this season! In the evening we visited the meatpacking district, which is one of the most popular places to eat out – this is where you can find every type of restaurant and all the quirky bars! I swapped my sandals for some wedges and wore a bell sleeve top under my pinafore for a more glamorous look to catch the Danish boys eyes.
We rented bikes to visit Norrebro for the day and took picnics in our baskets to sit in the park enjoying the sunshine – I wore a Disney Mickey Mouse t-shirt for comfort and took my trusty skin backpack filled with essentials for the day.
I was in charge of directions and took the girls on an adventure taking the scenic route (getting lost) to visit Freetown Christiania. We were lucky with the weather so I wore my Poorboy remade cami dress layered over a plain t-shirt. I love this versatile dress and find I am able to dress it up or wear it casual for the daytime. Freetown Christiania is a neighbourhood established by a group of hippies in 1971 and is known for its different way of life. You can find yourself shopping at the hippy market or exploring art galleries. We spent the afternoon at Paper Island (a Street Food market overlooking the water) where we tasted some amazing food watching the sun set behind the beautiful buildings of the city.


The last day we took a stroll, did some last minute shopping for presents and grabbed lunch at a retro café. Wanting to make sure I was comfy and still able to keep warm travelling home on the plane I choose to wear my African print culottes teamed with a stripy top and western belt – yes I am guilty of clashing prints and I love it!