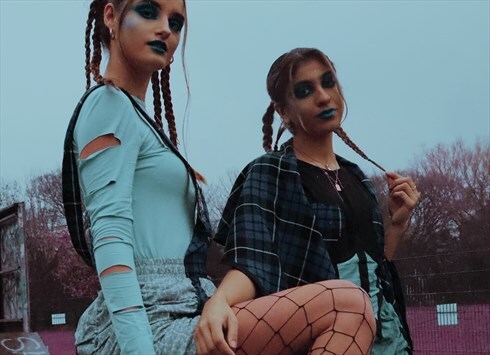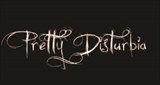 MANCHESTER, UK
🖤 Pretty Disturbia Vintage & Handmade! 🖤 Sustainable/ Ethical/ Inclusive/ Positive/ we have zero waste...
HOLIDAY WEEK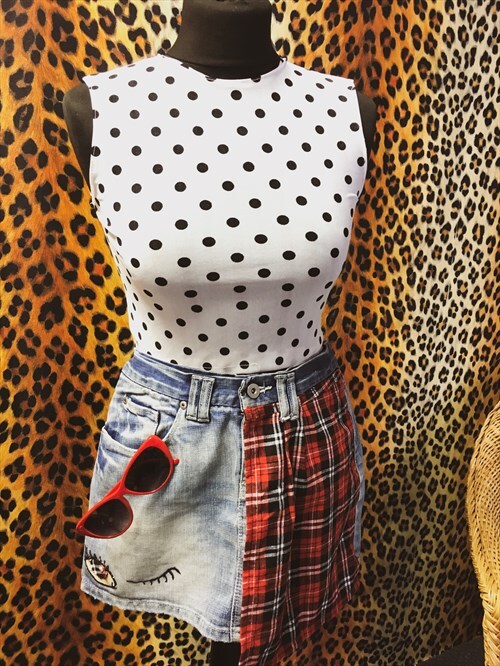 Summer is on it's way, although here up in Manchester it may not seem it, with the rain and grey skies, surely soon enough we'll have the sun around. Pretty Disturbia is getting ready for a summer vibe with a combination of the denim tartan check print skirt and white polka dot cropped vest which help create the perfect print clash for a stylish summer season. At Pretty Disturbia we love to be creative with our outfits, don't be afraid to stand out with the bold mixture of colours and prints.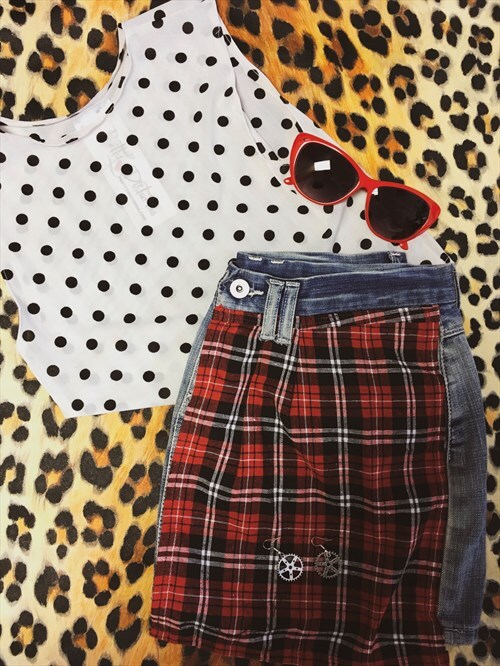 Our Pretty Disturbia stylists would wear this outfit for some casual day drinks with friends or at a summer festival. It could be paired with black ankle boots or a casual pair of white trainers.

Finally what is summer without a pair of stylish sunglasses, the perfect summer accessory. Why not pick out a pair of gorgeous retro glasses to achieve that summer feel. To add more to this stylish summer look you could add extra accessories such as a matching bandana to tie around your waist or create a bolder hairstyle.
ASOS MARKETPLACE -
RED TARTAN ACID WASH DENIM SKIRT RETRO SUMMER FESTIVAL PUNK – £ 28.00
VINTAGE 90s STYLE SPOTTY POLKA DOT BLACK WHITE BOXY CROP TOP – £14.00
60s VINTAGE STYLE WHITE RETRO PRINT SUNGLASSES CATS EYES – £15.00
PRETTY DISTURBIA WEBSITE-
"PRETTY DISTURBIA PUNK GRUNGE ROCKABILLY BANDANA PRINT HAIR SCRUNCHIE
£3.99":https://www.prettydisturbia.com/product/pretty-disturbia-punk-grunge-rockabilly-bandana-print-hair-scrunchie/
"PRETTY DISTURBIA HANDMADE PUNK GRUNGE ALTERNATIVE FREAK NECKLACE CHUNKY PVC BLACK RED TARTAN
£13.99
":https://www.prettydisturbia.com/product/pretty-disturbia-handmade-punk-grunge-alternative-freak-necklace-chunky-pvc-black-red-tartan/
Looking for something more? Have a look on our ASOS Marketplace boutique or check out our Pinterest page boards now!
Thanks for reading, Kisses from Pretty Disturbia! Xxx