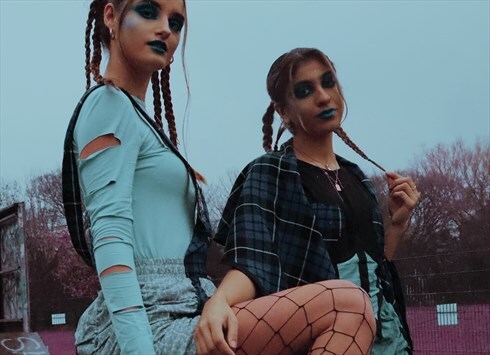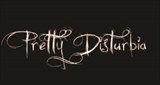 MANCHESTER, UK
🖤 Pretty Disturbia Vintage & Handmade! 🖤 Sustainable/ Ethical/ Inclusive/ Positive/ we have zero waste...
How I Made the Pretty Disturbia Eyeball T-shirt by PD Dolly Shaz!
Step one:
Start off with a plain white t-shirt. Fold in half at the back, make sure the front is separated to the back as you will start cutting into the back of the shirt.
Start from the fold line from the centre back start and cut an even line up to the side of the shirt making sure you stop just before the seam. Continue cutting straight lines all the way to the bottom of the shirt ensuring you don't cut into the seam line. You can be as creative as you like and stop the line where ever you want.
Step two:
Unfold the shirt to reveal all the fringing down the back of the shirt. Place the shirt on a mannequin as the next part will be less tricky on a three-dimensional body rather than keeping the garment flat.
Now plaiting the back – Starting with the first fringing line pick it up with your finger, then as you see the second line take that through the first line you had already picked up. Continue this until you are happy with the spider web design at the back. As you finish, cut the last strand in half and tie a secure knot to ensure this does not unravel. You can continue this process if you want more detailed plaiting at the back.
Step three : Transfer printing the eye
Print out eye sketch onto heat transfer paper. Remember to reflect the image on photoshop first to ensure the image will be correct once transferred onto fabric.
Pre-heat the iron, make sure the t-shirt is ironed beforehand to get an even print.
Place image over fabric and keep the iron over the full image for one minute.
Let paper cool down on the fabric for ten minutes. Once cooled down peel away paper carefully starting from the edges.
Embellishing the eye:
The first stage is putting some life into the eye. I used the sewing machine to sew into the bottom lashes to exaggerate them. Leaving all the threads loose to give effect to the eye.
Jazz up the eye a little:
I used sequins, buttons and beads to embellish the pupil, to give it a three dimensional look. For the tear drop I used sequins to create an outline and filled it in.
This top will soon feature and be listed on here! Watch this space ;) x
Kisses from PD dolly Shaz xxx