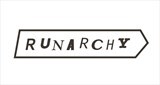 London, UK
RUNARCHY make feel good sportswear for rebels, outlaws and mavericks. Representing a rebellious attitude...
We're live on ASOS Marketplace!
So we're finally live on ASOS after a busy year designing our first sportswear collection. It's been a crazy time designing and promoting the brand but the hard work has all been worth it.
We launched officially just this weekend at the National Running Show at the NEC in Birmingham. It was awesome as our pop up store was visited by thousands of fitness fans, including legendary double Olympic champion Dame Kelly Holmes.
Our debut RUNARCHY collection has been really well received by runners, gym goers, freerunners, dancers and fitness enthusiasts across the UK, especially the younger crowd who love our bold prints, edgy branding and rebellious attitude.
We hope you love our ASOS Boutique. Once you've got your RUNARCHY kit, don't forget to hit us up on the socials @RUNARCHY and #RUNRIOT