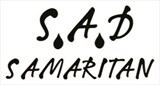 Fareham, UK
We are all walking advertisement boards so why are we not wearing something that actually means something...
Be a Advert
Should we be more aware of what we wear and what it says to others?
If I walked down the street that had something offensive on the front of a T-shirt people would notice and potentially people would show their discomfort towards it, however what if its a positive message, do we see people respond to that ? Probably not. What is more likely to happen is that the person will see the message/brand and either google it or start a conversation about it " you seen that T-shirt everyone is wearing ?" "what does it mean ?", so every message is seen either on purpose or subconsciously.
This means we all have the chance to inspire or create awareness around a positive message, imagine if we could make a clothing brand look good but also spark a real positive message that just might help one person. That is what S.A.D Samaritan is, a clothing brand that wants to be something more than just clothing we want it to stand for something. There is a stigma around charitable T-shirts, they do an amazing job of creating awareness for an event, but how many people would actually wear one of these items as their everyday outfit ? not many, we hope to change that. As mental health becomes more and more talked about it is now the right time to encourage the new generation to wear something that means something and make them feel comfortable in wearing clothing that promotes a positive action.
This is S.A.D Samaritan.