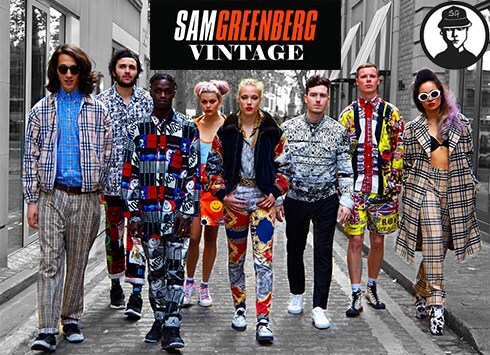 VAT No: GB217635409
London, UK
TOPMAN Oxford Circus , Stratford Westfield, Shoreditch, Bremt Cross, Manchester Arndale, Oxford and Brighton...
Be mine in the sunshine fun times.
So in the last week we've got a couple of new boys on Sammy G and Back to Snap ready for our virtual vacation. So even if you can't quite leave the office or school on a day like this, you sure can dream of a paradise print, a summer love, or jet plane to a place of ice pops and crop tops…Wherever you are make a little time for a few of our faves…
First up: Rollin' with the homies. Here's a few of the Attitude Magazine boys rockin' the summer sweetness. Take us back there please.

Two Two Tuesday: Here's every song we could string together with summer in it, in kind of an awesome order….
1. Summertime Blues – Eddie Cochran
2. Summer in the City – Lovin' Spoonful
3. Hot Fun in the Summertime – Sly & the Family Stone
4. Summer of '69 – Bryan Adams
5. Summertime – Billie Holiday
6. In the Summertime – Mungo Jerry
7. Summer Breeze – Seals & Crofts
8. Those Lazy Hazy Crazy Days Of Summer – Nat "King" Cole
9. Summer Wind – Frank Sinatra
10. The Boys of Summer – Don Henley
11. Summertime – Billy Stewart
12. One Summer Night – Danleers
13. Summer – War
14. Summertime Summertime – Jamies
15. Summer Rain – Johnny Rivers
16. A Summer Song – Chad And Jeremy
17. Summertime Blues – Blue Cheer
18. All Summer Long – The Beach Boys
19. Summertime – Sidney Bechet
20. Summer Nights – John Travolta & Olivia Newton John
21. The Theme From 'A Summer Place' – Percy Faith
22. Cruel Summer – Bananarama
23. Summer Wine – Nancy Sinatra & Lee Hazlewood
24. Endless Summer Nights – Richard Marx
25. Suddenly Last Summer – Motels
26. That Summer, That Sunday – Nat "King" Cole
27. All Summer Long – Kid Rock
28. Wonderful Summer – Robin Ward
29. Summertime – Janis Joplin
30. The Green Leaves of Summer – Peter & Gordon
31. Hot Summer Day – It's a Beautiful Day
32. Long Hot Summer Night – Jimi Hendrix
33. Summertime – DJ Jazzy Jeff & the Fresh Prince
34. Summertime – The Sundays
35. Summer Madness – Kool & the Gang
Third and Third: This is what not to do…I think someone probably should have told her not to use all the fake tan on her face. Poor girl.

Go Forth: We kind of prefer to take the more subtle approach. Watch how we swivel our hips like Elvis in Blue Hawaii, Wa-wa-Waikiki!