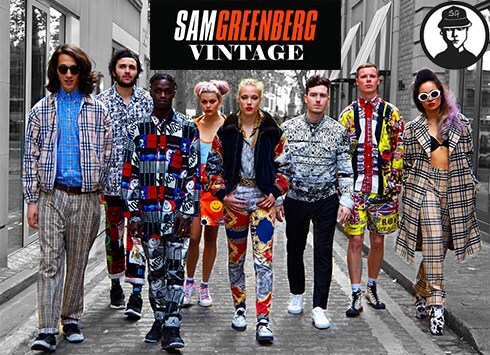 VAT No: GB217635409
London, UK
TOPMAN Oxford Circus , Stratford Westfield, Shoreditch, Bremt Cross, Manchester Arndale, Oxford and Brighton...
Don't Catch a Cold...Collar a Cowie!

Every season these gorgeous Canadian hand knit wool Sweaters and Cardigans put their arms around us to give us a serious bear hug and this season is no exception…we've just gone all around the globe to find you the sweetest ones. Just so you know how to tell people the story of where your wonderful jumper comes from…here's a little history:

Cute Cowie Couple, 1985
Cowichan knitting is a form of knitting developed by the Cowichan people of southeastern Vancouver Island, British Columbia. The distinctively patterned, heavy-knit Cowichan sweaters, popular among British Columbians and tourists, are produced using this method. Cowichan knitting is an acculturated art form, a combination of European textile techniques and Salish spinning and weaving methods. From this union, new tools, techniques and designs developed over the years.
Sheep were introduced to Vancouver Island in the 1850s, providing a more plentiful source of wool. Around the same time, the first European settlers arrived in the Cowichan Valley. Knitting by native women probably began in a number of ways shortly thereafter. The most organized instruction in knitting was provided by the Sisters of St. Ann, missionaries who came from Victoria to the Cowichan Valley in 1864 to start a school for the Indians. They taught the Cowichan women to knit such items as socks and mitts. The mission has records of students' knitting and other domestic skills being displayed at local fairs and at the Chicago World's Fair in 1893.
After learning how to make socks and mitts, Cowichan women began to knit knee-length underwear and sweaters. Like the other garments, sweaters were and are today knit in the round with no seams, using multiple needles in the European style of the period. The earliest Cowichan sweaters were all of one colour, knitted with a turtle-neck. Some knitters used a raised stitch similar to that of a gansey, possibly inspired by the clothing of the many British fishermen who had settled in the area.
In time, Cowichan knitters began to embellish sweaters using the Fair Isle technique. The teaching of patterned sweater knitting is generally attributed to a settler from the Shetland Islands, Jerimina Colvin. Mrs. Colvin settled in Cowichan Station in 1885, raised sheep, and hand-spun and dyed her own wool. She probably began to teach knitting by the 1890s, and added patterns as she learned them from other Scottish settlers.
Unlike Fair Isle or Shetland garments, however, Cowichan sweaters are always hand knit of thick, handspun, one-ply natural-coloured yarn in two or three colours, producing a warm bulky outer garment that is heavier than the multi-coloured Scottish garments made from lightweight two-ply dyed yarn.
Here's a few of Sam Greenberg's picked fresh out the West Coast: