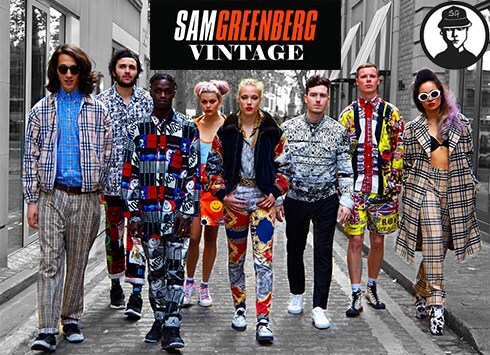 VAT No: GB217635409
London, UK
TOPMAN Oxford Circus , Stratford Westfield, Shoreditch, Bremt Cross, Manchester Arndale, Oxford and Brighton...
SHINE ON NYLON. SAMMY G GIVES YOU SHELLSUITS. GOLDEN GIRLS GET GLAM!!!

Yes we do love them.
The history of the shellsuit has its origins in the 1980's; the decade of Yuppies, The A-Team and most importantly Jim'll Fix It. They can only be described as something of a lightweight front zippered nylon jogging top. This top is most commonly matched with loose bottom trousers, gathered at the ankles and with an elasticated waist.
The silky materials and ease of movement gave a new sense of energy and pride to those sportsmen and women who wore such beauties. This soon rubbed off on the general public, helpless to resist the pure comfort and feel of this wonder garment.
Soon the shellsuit was in every household, street and town. Especially Liverpool. But like so much in the 80's it outstayed its welcome. Before too long this uber-trendy garment had been relegated to cupboards, charity shops and fashion history. However today the seeds of change has been sown and the time has come for the Shellsuit Revolution to begin. Yipppeeee!
Now the way to wear it in true Sammy G style is no doubt with a little mini skirt or a pair or tight acid wash jeans. We think the full suit may be a little excessive for everyday use, even when at Gatwick Airport flying Ryanair to Magaluf. But Claire's got the look on lockdown. Scroll down to see some of our Tuesday faves.