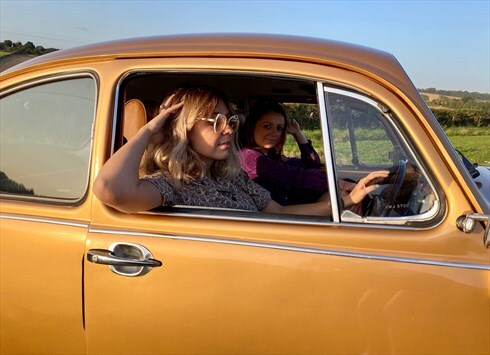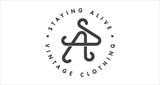 Huddersfield, UK
Each piece of the Staying Alive Vintage collection, is a unique and genuine piece of Fashion History...
My week in outfits (whilst staying home!)
I am lucky and grateful enough to be writing this blog post from my garden, drinking a (strong and spicy) Bloody Mary made by my hubby. I am also trying to keep one eye on my ten week old puppy Trouper who is currently zooming around our garden. He is exploring every type of smell and noise and giving me a complete heart attack when he puts a rock, snail, peg or currently his favourite thing my toe in his mouth.
What a funny four weeks its been aye! I dont want to go on too much about the current Panny-D as Dolly Alderton, from my favourite podcast, The High Low has called the dreaded covid-19. I am not an expert in Health or Well-being so I wouldn't even know where to start on helping people feel better about having to stay at home, especially as I have days full of worry and sadness myself.
However what I do feel very confident writing about is, what outfits I have worn in lockdown. I know that on the days I have put on a good outfit, completed some form of make up and brushed my hair and teeth, I feel a better version of my sloppy t-shirt, socks and Birkenstock sandals self – hey its a look! So each day for the last seven days, I took a quick snap of my outfit and thought I would share them with a brief description, of what I got up to during my third week of staying at home.
Monday 6th April 2020
I woke up feeling a little blue today. I think I consumed too much news and possibly booze at the weekend. So I gravitated towards the brightest pair of trousers I own. This is actually a 1970's suit that I purchased from ebay and it comes with a matching safari jacket – It instantly makes me feel happy. I teamed it with my favourite rainbow roll neck from Pop boutique, which I bought at the start of the year and have not taken off. Teamed with an old but favourite pair of slippers. I spent the day in the kitchen cooking and baking as it seems to calm my mind when it wonders to an anxious place.
Tuesday 7th April 2020
So although I love a good outfit, I love to be snug and cosy too. Especially as I spend a lot of time running after Troupes my puppy. So I opted for my pink heavy duty cotton vintage jumpsuit. Its not PJ's but it looks like it could be. I am a Fashion Stylist so could not help but match my fluffy socks to it too! My mood a little brighter today so I kept cooking. Hubby says I am trying to fatten him up.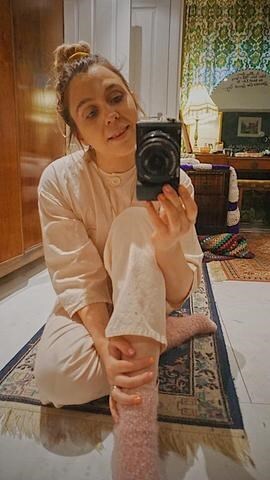 Wednesday 8th April 2020
Right, So do not laugh… but today I was super excited about getting pretty dressed up and going to the… Bottle Bank. Yup that was the highlight of my day. The alarming rate of bottles accumulating at our door was a heavy visual of how much we are drinking through lockdown! So I decided it was time to remove the evidence. I picked this beautiful 1970's purple floral dress which was from ebay and it gives me real Erdem vibes. I teamed it with some snake skin topshop boots which I purchased second hand from ebay and a cute basket bag from my local Chazza. I obviously and gratefully did not see one person on my trip to the Bottle Bank but none the less felt good for putting on a nice vintage frock.
Thursday 9th April 2020
As so many people, we had a holiday cancelled because of the dreaded Panny-D. We had two weeks in Goa planned and I had been busy for the last few months hunting my perfect vintage holiday wardrobe. But just because I wasn't going to Goa did not mean I could not wear one of the vintage Hawaiian shirts I had found on ebay. So I did and I loved it. I also made cocktails to go with my outfit.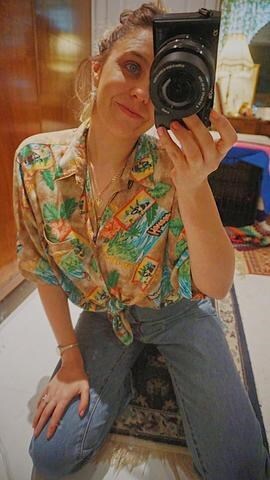 Friday 10th April 2020
I generally wear a lot of colour, a lot of print and I do not mind everything clashing (Pauline's worse nightmare!). But sometimes I do enjoy just wearing all black there is something so chic about it. Today was a day where I just wanted to wear my Fleetwood Mac band t-shirt and one of my best buys of 2020, some black wax effect Levi jeans which I got for £11 yes £11 from Cow Vintage in Liverpool. I spent the day reading my book American Dirt (Book Review to come) and finishing a jigsaw puzzle, yep I know. I am wild, but I am kinda enjoying this slower life.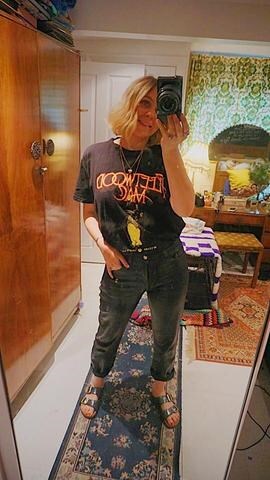 Saturday 11th April 2020
The weekend! Although every day is kinda the same isn't it! Today we took our lad Troupes out in our van for the first time. We needed to do a big food shop so Hubby went into Sainsburys and I waited in the van. We want to make sure we socialise Troupes as much as we can in such limited times, expose him to lots of different things, so when this all goes back to normal he doesn't t think that me and hubby are the only two people in the world and he is the centre of the universe! I am wearing my favourite CK1 jeans found for £20 in pop boutique In Manchester and my new grey leather vintage 70`s coat which i bought for a trip to Dublin which has now been postponed! Oh my boots are from a chazza shop in Halifax. Oh and OFC my Stella M bag which is my pride and joy that I got for my 30th birthday.
Sunday 12th April 2020
Last day of my week of outfits and yikes I have realised I have rambled on. Red is one of my favourite colours to wear. I love this vintage shirt because it is effortless and cool and just bloody comfortable and after three weeks of eating and drinking a lot (not even sorry!) I teamed it with a vintage pair of jeans which I picked up in a kilo sale in Leeds a few years ago. I spent the day cooking a big veggie roast dinner and drinking red wine.
Well this has actually turned into a pretty long blog post I hope you enjoyed seeing what I have been wearing and what I have been up to this week. I will most likely do another one very soon as its been fun to document what I have been wearing, although have to admit today is a socks and sliders kinda day.
Keep safe all the love.
Jodie x