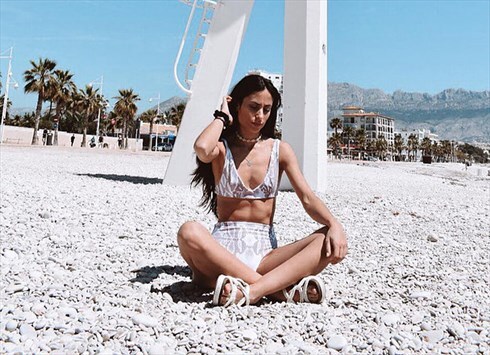 Oxfordshire, UK
ETHICAL SWIMWEAR & BEACHWEAR // MADE TO ORDER IN-HOUSE //USING ECONYL® REGENERATED NYLON FROM OCEAN...
Terra Dea Press release 2013.
Press Release
Terra Dea
Quality eco clothing.
Terra Dea was launched in late 2012 by emerging designer Terri Nicole Hughes. Taking her love of travel and incorporating it into each of her collections, her design style has a certain stylish air about it. Always fresh, summery and ready to hit the beach, her lines are meant to be worn in the sunshine, with the use of vibrant prints, along with a beautifully muted colour pallet. Her style is unrestricting with a plethora of luscious layers and free fitting shapes that somehow still flatter the figure to precision.
Always adding a touch of elegance to her boho beachwear, she finishes her garments with exquisite touches of leather, organic silk linings and not to mention her obsession with French seams!
ECO Chique.
Adding to the already fabulous designs, Terra Dea (the Latin meaning for earth goddess) is an ethical brand. Terri sources the finest eco fabrics from around the world, including GOTS certified organic cottons and bamboo silks that have been hand made in India, Recycled beads made by women in Uganda, and UK sourced 'GREEN' leather, ensuring the humane treatment of all livestock and only used as a by-product of the meat industry. Furthermore Terri is always on the lookout for great recyclable materials such as her fabulous recycled saree's that she up-cycles into her designs.
Due to the use of recycled materials Terra Dea always has some great unique pieces available. Along with the equally great slow fashion pieces that are stocked season after season.
Terra Dea's commitment.
Designer Terri is an avid animal lover and (as mentioned above) only uses UK sourced green leather along with recycled leathers and furs. She does not condone the slaughter of animals for the use of fashion, and promises to donate 10% of any profits Terra Dea makes from their leather/fur sales to selected animal charities annually.
Terra Dea has also been awarded the Positive Luxury Blue Butterfly trust mark, for their ethically sustainable products.
Terra Dea, around the world.
The laid back style and impeccable quality of Terra Dea has already been noticed around the world. Exporting many of the sales to the European market (France in particular), along with being approached by buyers in Australia, the US and Canada, not to mention her home turf, the UK. (Also catching the eye of celebrity twitter followers.)
For more information.
Please contact; info@terradea.co.uk
Buyers contact; sales@terradea.co.uk
Webpage; www.terradea.co.uk