VAT No: GB 153127142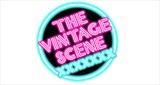 LINCOLNSHIRE, UK
On Trend & Rad....Follow us on Instagram @thevintagescene for updates on new stock and exclusive discounts...
Fashion Blogger Charnelle Styles Up Our Tie Dye T-Shirt
Fashion blogger Charnelle is one hot babe styling up one of our amazing tie dye t-shirts!
)!
Visit Charnelle's blog at HERE for an exclusive discount code off ALL our items in our boutique and for super FRESH styling ideas. Perfect for inspiration when you just don't know what to wear! We all have those days!
Purchase Charnelle's tie dye t-shirt HERE
Happy Monday! :)