VAT No: GB 153127142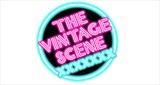 LINCOLNSHIRE, UK
On Trend & Rad....Follow us on Instagram @thevintagescene for updates on new stock and exclusive discounts...
Our Style Guide For A Kick Ass Summer
We have been working on putting together our first Lookbook but waiting for a sunny day has been driving us crazy! We finally got the chance last weekend to shoot some looks and show you all what to expect this summer within our boutique :) It's the styles we are craving to be wearing this season and perfect for a generation X kick ass summer. Many of the items below are available within our boutique RIGHT NOW links provided where to buy the looks on all images below.
These are the looks we are championing all summer follow our boutique HERE to make sure you don't miss any of the action!
Photography: Francesca Dalla-Riva
Model: Abby Rennison
Clothing: The Vintage Scene
Styling: The Vintage Scene