VAT No: GB 153127142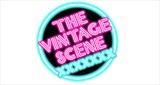 LINCOLNSHIRE, UK
On Trend & Rad....Follow us on Instagram @thevintagescene for updates on new stock and exclusive discounts...
Peaches Seen In The Vintage Scene!
Check out Peaches in one of our strawberry print kitsch dresses. Peaches bought this just before she was to give birth to her gorgeous baby boy Astala but loved it so much she wore it straight away!
It also got featured on the daily mail website, check out the article here!
http://www.dailymail.co.uk/tvshowbiz/article-2125727/Peaches-Geldof-steps-fruity-frock-wait-baby-matching-hat.html
Our ever-growing unique handmade collection is featured within our ASOS Boutique including this cute strawberry dress, delightful!
Surely, there is no better weekend then to buy original British garments. Strawberries and cream anyone?