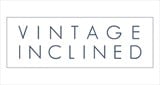 Margate, UK
❤ SELLING VINTAGE ON ASOS MARKETPLACE SINCE 2012 ❤ Instagram: @VintageInclined
ASOS, meet Vintage Inclined!
It's hard to think of anyone better to collaborate with than ASOS and the excitement that hit when Vintage Inclined got accepted as a boutique showed just that! Vintage Inclined begun small one year ago on eBay and with love, a great response and dedication it has only grown. Now, one year on we can't wait to grace ASOS and judging by our sales already; you couldn't wait for us to be here either!
Vintage Inclined hand picks only the best quality vintage. We embrace the past, update it for the present and always focus on the future. Each item is styled so its wearable and you won't ever get a vintage granny vibe (or smell!) from us.
Vintage Inclined's customers mean a lot to us and each item is packaged and sent with care. If you stay in contact and shop regularly there will be personal treats and offers just for you.
Get 10% off on our first week with promo code: ILOVEVINTAGE
Vintage Inclined,
x