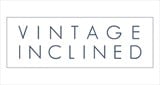 Margate, UK
❤ SELLING VINTAGE ON ASOS MARKETPLACE SINCE 2012 ❤ Instagram: @VintageInclined
Autumnal Shoot
There is no better way to appreciate how gorgeous Autumn is than to use it as a backdrop for vintage fashion! (Well, in a fashionista's mind anyway). We gathered some Vintage Inclined A/W favourites and braved the cold whilst dodging the rain. In return we made some pretty, wintery photography and have some more amazing pieces online just for you!
Want to grab something before it finds its way to ASOS? Follow us on Facebook for first picks.
Oh! And we made a new friend. Thought of casting him as a new model. Whatcha think?