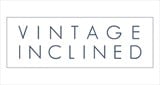 Margate, UK
❤ SELLING VINTAGE ON ASOS MARKETPLACE SINCE 2012 ❤ Instagram: @VintageInclined
We're back!
We've been a little quiet recently and for that we apologise. But, we're back and we're back big. With a move to London and a wealth of new stock and inspiration we hope you're as excited as we are!
Check out our first shoot on our new adventure with our latest addition to the Vintage Inclined family, model Olivia. There's plenty of pieces to make your fling with the sun all that more beautiful…
Shop the look's here .