Seller Blog
Advice, help and support for ASOS Marketplace sellers.
Using Promo Codes

Promotional codes on ASOS Marketplace allow you to create a discount code for any amount, at any time, for any amount of time. In the words of Captain Planet (80s/90s kids unite), the power is yours. There are so many ways to use this function and it's another great tool in growing your brand and sales. We've seen it used so creatively in so many ways that we thought it time we show y'all how clever this little function can be…
1.
 Go Public.
Promo codes are currently predominantly used for occasions. For example, on Valentine's Day so many of you spread the love a week or two before with romantically themed codes. Some went a step further making it a 14% code to tie it all together in one big loved up package.
2. 
Be Personal.
A similar way we've seen it used is to celebrate your brand birthdays or other personal events you want to share with your customers. Offering 10% off on your 1 year marketplace anniversary or 25% off on your own 25th birthday is a really nice touch.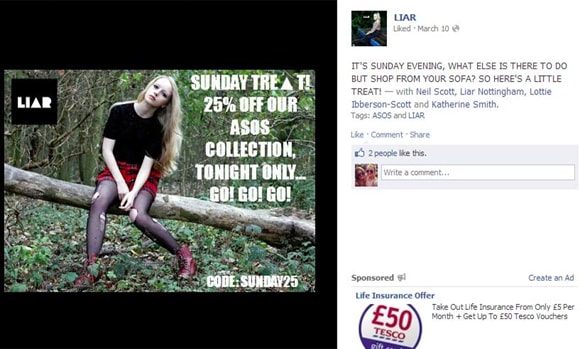 3. 
Get Social.
Codes don't have to be displayed alongside your items, you can create private codes and only issue them to the people you want to. A really clever way to grow your facebook and twitter followers is by posting 'secret' promo codes on those platforms which will encourage people to follow you in order to see them. You could even ask people to 'follow and re-tweet for the code' and DM them the code once they've retweeted you. That also extends your reach as all of their followers/friends will see and maybe follow and re-tweet too.
4. Reward.
One of the most lucrative ways we see it used is by creating one off codes for repeat customers. This can either be done by sending them a message through the system after they have received their item, or including it on a note within their package. You can make it so personal to them, even using their name or initials to make them feel super special. If they're happy with their item and they've been given a discount it's very likely they'll be back. If possible, it's a good idea to keep track of these codes in a spread sheet so you can see who your repeat customers are.
5. Be unique.
If you advertise anywhere, in magazines, universities, fairs etc, create a unique code for that advertorial or event so that you can see how many people used that specific code and track how well that advert or event has done for you.
6. Team Up.

Is there another boutique on the site that you work with or would like to? Why not team up and create a joint promo code that you both publicise alongside shouting about each other's boutique. That way, you're targeting their followers and they're targeting yours hopefully resulting in new followers and customers all round.

7. Mix it up.

Use it when you're adding new stock to encourage people to purchase and when you've not added anything in a while. Both ways will help to drive traffic and sales.

So that's all the fun stuff, now for the small print:

•

Promo codes can be used on all items in your boutique.•

If you choose to display a promo code alongside your live products, it will only show against products that have been on the site for over 7 days (for legal reasons, not just for funzies). It can, however, still be used against those products.•

If you have added product to one of the ASOS Marketplace sales and the sale discount is larger than the promo code amount, the sale will trump the promo code. So if you try to apply both discounts to a product the highest value wins, you can't use both.

So have some fun with it and get promoting!