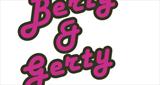 Portsmouth, UK
Berty & Gerty Home Of Vintage Accessories.
Want to join our Squad...?
Here at Berty & Gerty Vintage we are loving the continuing trend for khaki boyfriend shirts, oversized camouflage t-shirts, real ex-army dutch jackets and denim Austrian Army work jackets. Gerty has been impressed of late when leaving the B&G studio on Camden Town High street to see how many cool trendsetters are wearing head-to-toe camo. It doesn't matter whether you are more Private Benjamin or more GI Jane all shades of Khaki work worn over leggings, skinny jeans or dresses. Here are some key items from our 'We are in the Army Now'....