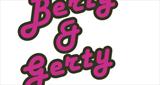 Portsmouth, UK
Berty & Gerty Home Of Vintage Accessories.
Baroque Luxe at Berty & Gerty Vintage
At Berty & Gerty Vintage we have noticed that Autumn is here. Just because the weather's a bit cooler and it's a shade of grey outside; doesn't mean you have to dress that way! Cosy up and keep warm in style by celebrating this seasons baroque trend. Make like your blood is blue and opt for: heavy embellishment, rich fabrics like angora and mohair, luxe details like beads and sequins and brocade fabric it's all in the detail. Don't be afraid to mix all these amazing details together with bold prints and faux fur; basically this trend asks for MORE, MORE,MORE!
Why not channel baroque style with one of our embellished jumpers? Add strings of pearl beads, vintage brooches and gem earrings for that regal twist.
Written by Berty & Gerty Vintage Model and Fashion Student Eleanor Gall.