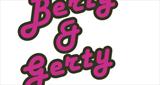 Portsmouth, UK
Berty & Gerty Home Of Vintage Accessories.
CHECK IT OUT....
At Berty & Gerty Vintage we are freeing our inner lumberjack, we suggest you free your inner lumberjack and embrace the new check. Actually it's the perennial favourite around again for another outing.
This time though why not try a more daring colour such as yellow or orange. Berty will be trying one of the large window payne check flannel jackets this season. Gerty will be reliving her teenage years in the 90's, wearing the flannel open, oversized and layered over leggings; completing the look with some chunky sheepskin leather ankle boots. The gal's in the office love to wear their flannel shirts extra large boyfriend style with the sleeves rolled up.
The top fashion reference points to look out for are: The 'Lumberjack song' sung by Monty Python, David Lynche's TV series 'Twin Peaks', and of course the ultimate number one has to be Kurt Cobain for that totally on trend 90's look.