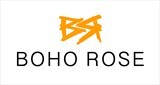 London, UK
Follow us on Insta @bohorose_1 // In-house designed & made swimwear, outfits & jewellery for sun...
A Sneaky Peek at Our Jewels
We are shooting tomorrow (please hold off rain!) and as well as having lots of fab new vintage clothes to photograph we have a whole new collection of jewellery that will be hitting the boutique from the end of this week. Think chunky gold, crucifixes, 90's doorknocker earrings and statement collars and cuffs! All perfect to take you into the A/W season..