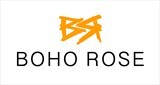 London, UK
Follow us on Insta @bohorose_1 // In-house designed & made swimwear, outfits & jewellery for sun...
Get Shorty
Chanel, D&G, Erdem, Isabel Marant. Image: Google
90's Pink Tie Dye Shorts £18
80's High Waist White Denim Shorts £22
80's Studded Denim Shorts £25
80's Embellished Cut Offs £30
90's Tribal Shorts £18
80's Seaside Print Shorts £24
Vintage Patch Pocket Shorts £22
Founder Leanne in 70's Patchwork Cut Offs!
Here at Bohemian Rose Vintage we are a bit in love with shorts. Our favourite thing to wear right now, lucky as the catwalks were awash with them and the High Street has followed suit. Most of all of course, we love vintage versions and we have a great little selection in our boutique right now. From pastel high waisted denim to grungey tie dye, tribal printed culottes and embellished cut offs we have a little of everything, with more to come, as ever! Don't be put off by the current lack of sunshine ether, just add knitwear a'la Isabel Marant or some trusty tights! View all our shorts here: https://marketplace.asos.com/boutique/bohemianrose-vintage/shorts.