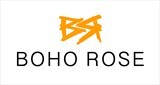 London, UK
Follow us on Insta @bohorose_1 // In-house designed & made swimwear, outfits & jewellery for sun...
OUR TOP SALE PICKS!
The ASOS Marketplace Sale is still in full swing and we have some great vintage treats left in our boutique! We put together our favourite sale bargains here, most of them taking you into next season and beyond…be quick, they won't be around for long!

80's Brown Leather Boots Size 4 NOW £18
This cute little boots will be useful all year around, whether worn with a mini dress and bare legs now or with some cropped trews!

Neon Woven Disc Necklace NOW £16.50
This necklace, handmade using vintage materials is woven with neon pink fabric adding a splash of colour to your look! Statement necklaces are set to be a HUGE trend for A/W 12' too!

70's Yellow Sundress NOW £21
This fab 70's ochre yellow sundress is a hot tone for A/W 12' and will look great layered with ether a shirt underneath or a knit over it.

80's Blue Maxi Dress NOW £21
We love this slouchy maxi. Just add boots and a blazer or leather jacket for cooler days.

Antique Ball Bracelet NOW £12
A great conversational piece, this antique bracelet is light and easy to wear!

70's Quilted Bag NOW £17.25
A total classic, this gorgeous chic bag will never date! The strap can be worn doubled and over the shoulder or pulled out to wear across the body.

90's Red Silk Shirt NOW £13.50
Lovely bright silk shirt which will go with almost anything, preppy with shorts or chic with a pencil skirt..