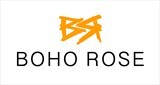 London, UK
Follow us on Insta @bohorose_1 // In-house designed & made swimwear, outfits & jewellery for sun...
Stylists Rail @ Hoxton Hotel this Saturday!
It's that time again! The amazing Stylists Rail events just keep getting better, and this Saturday they pop up once again at the Hoxton Hotel. With a better than ever array of stylists, vintage traders and independent labels selling their wares (we are particularly excited about sifting the rails of Grazia's magazines Fashion Editor, Hannah Almassi). That's not to mention free cocktails and music spun by DJ's as you shop! You are all invited!
We have been saving up our best new season S/S stock, with ton's of pastels, sportswear, day to night metallic and an array of gorgeous new one off jewellery pieces which will get you festival ready and beyond! Hope to see you there, come and say hi!
See who's trading and join the event here: https://www.facebook.com/events/288169504666913/