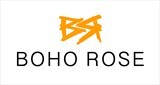 London, UK
Follow us on Insta @bohorose_1 // In-house designed & made swimwear, outfits & jewellery for sun...
We ♥ Mum Style!
As a tribute for Mothers Day I just wanted to share a few of the surviving photos of my mum's style from the 70's and 80's. Particularly loving the bit of shoulder robing (very now!), the cold shoulder leopard dress and ombre hair for an early 80's wedding and the 70's fur trim leather jacket – want it!
I always remember having a good rummage in mums jewellery box and wardrobe, to me it literally was like hunting through a treasure trove. I can still remember looking at the emerald and pearl choker she is wearing in the 3rd photo with wonder! I'd say this must be where my love of fashion and hunting for old gems probably started.
In the early 90's mum did a HUGE wardrobe clearout and sadly I was too young and naive to have taken up the offers of taking on the wares – oh how I bitterly regret this! Think 80's body con hunza dresses in bold colours, gold pleated maxi skirts, sheer mesh bodies and pointy courts in so many styles and colours I could have opened a shoe shop! Just a few of the highlights… Sob!
However, over the years some pieces have been handed down, some of which have even ended up here on our boutique. See those dangly earrings in the 4th pic – sold to a happy Bohemian Rose Vintage customer! We still have some cherished items, one of which features in the Then & Now blog right here on the marketplace: https://marketplace.asos.com/community/blog/2013/03/then-now-mothers-day
Happy Mothers Day to all the stylish mum's out there!
BohoRose X