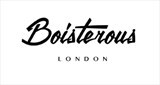 london, UK
Boisterous London is an eclectic mix of handpicked vintage and in-house design garments for the fearless RELEA...
happy halloween
We're so excited about Halloween! Every year we look forward to celebrating ;) and in what better way than by creating some awesome dresses to get you in the mood. At our recent shoot Boisterous Glamour got into the spooky spirit heres some photos from behind the scenes, if your scared of spiders look away now. eeek
Lets not forget our gorgeous model Luisa, looking eerie in her day of the dead make up. Want to recreate the look? heres how we did it in only 5 minutes.
Makeup/tools you'll need:
snazaroo face paint in white
dark red lipstick (media by mac)
black lipstick (barry m black)
liquid eye liner black (collection 2000)
fake roses
bobby pins
What next:
With a damp sponge lightly dab the face with the white face paint, to give the effect of a pale face. Then taking the liner draw a circle around each eye starting from the eyebrows, doing this helps to blend the eyebrows into the circles. Next draw the petals around the eyes and two lines from the edge of the mouth to around 3 cms out, draw in stitch lines. Now the lips, grab your red lipstick and cover the entire lip, next the black and over the red lipstick just in the middle to add more intensity to the lipstick. Now the makeup is all done just the hair. Take a flower and a bobby pin and push the pin through a petal of the rose, once secure push into hair and secure with more bobby pins. tada you're all ready for a horrifying halloween.
HAPPY HALLOWEEN
LOVE BOISTEROUS GLAMOUR