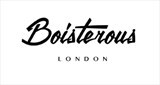 london, UK
Boisterous London is an eclectic mix of handpicked vintage and in-house design garments for the fearless RELEA...
Boisterous Glamour first collection 'BLURRED VISIONS'
Here at Boisterous Glamour we've been busy working on our first collection! With a mix of andryonous aesthetics, we have created our collection called BLURRED VISIONS. In our generation gender roles are clouded, masculinity and femininity are mixed, we have drawn inspiration from this to create a clothing that is clouded, hand shredded fabric to create a blurred image through the cloth. Our collection is made up of reworked vintage pieces and new featuring body suits, hand dyed fabric, web shredded dresses, ripped and fringe shorts to name a few. Each piece has been hand made with love creating individual pieces.
We wanted to incorporate our love of music into our first collection and it arrives just in time for the festivals season. Together we envisioned our collection to be worn by, sun worshipers, the mad raver at creamfields, the new age hipster at lovebox, the psychedelic animal at zoo project and ultimately for the individuals that challenge the boundaries of andryonous fashion. Mixing our concept and love of music we were able to produce a zealous and eclectic shoot reminiscent of the hippy era. Here are some of our favourite photos!