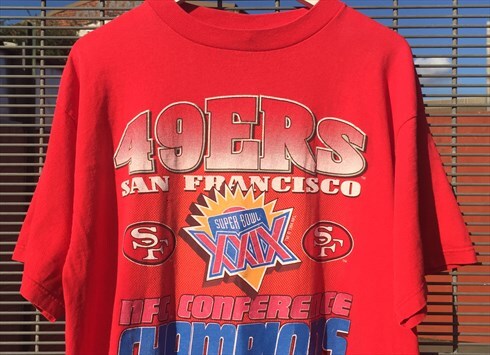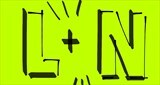 London, UK
Lik+Neon est 2002. we started as a shop/concept space just off Brick Lane in London's East End. a pop...
OUR TOP 10 SKI WEAR PICKS of WINTER '21-'22 -- VINTAGE SNOWSUITS & SKI JACKETS
HAPPY NEW YEAR! – well, the weeks have flown by and it's already 2022! Hope everyone had a jolly holiday and a few feet-up moments in front of a warm fire (or radiator). As we head in to an Arctic cold snap and ski holidays are starting to get underway "way-hey!", here's a juicy NEW YEARS round up of OUR TOP 10 SKI WEAR PICKS OF WINTER '21-'22 – VINTAGE SNOWSUITS & SKI JACKETS – The timing couldn't be better!
Heads up! some of these beauties have sold already (apols apols!) but still deserve a mention. Others featured Are still available (and more on the way over the next few weeks).
Here's our Top 10 Faves so far:
1. ALL SYSTEMS GO!
Y2k neon orange technical equipment COLMAR ski-suit. Deffo one of the nicest Y2K models we've had in. Luvv this 'Be Aware' fluorescent colour, Safety on the slopes! (Sold)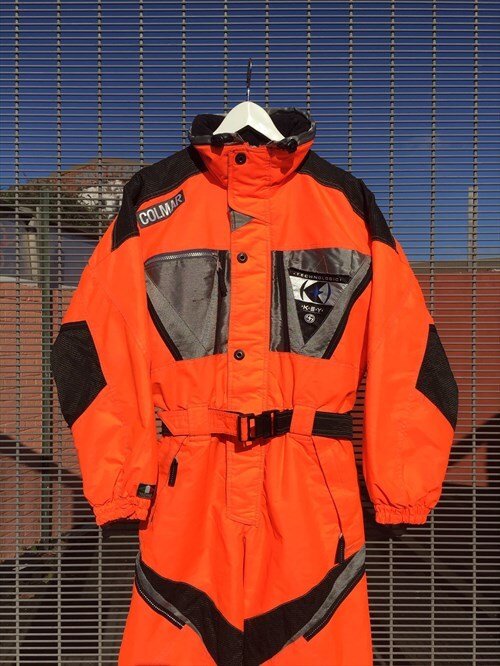 2. ASTRO POP 80S
Another totally rad technical fabric Alpine suit by Italian Skiwear label COLMAR. This suit gives plently of Astonautical vibes in a Pop colourway and Big 80s Graphics (Sold)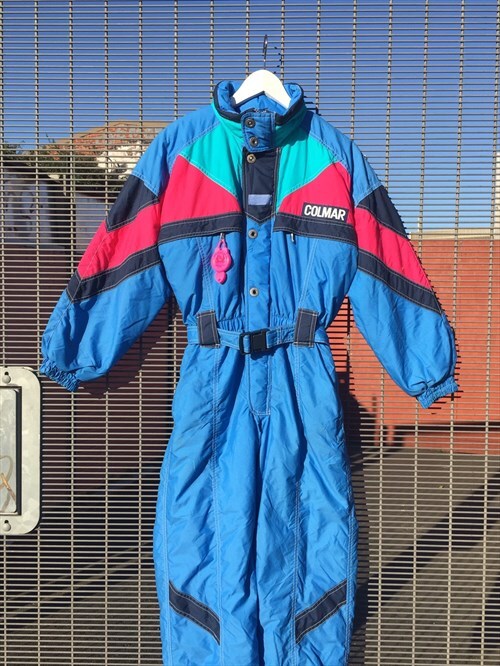 3. ICONIC 1980s MAGIC LINE Colourblock ski suit
Tall fit ski suit made for High Alpine conditions in a super cool Tangerine colourway with contrasting panels of Pink and Deep Blue Sky (Sold)

4. For the SERIOUS SKIER who prefers a darker palette
COLMAR Alpine 'technical fabric' full piece Ski suit Mens M (JUST sold)

5. An 80s classic – Muted colour tones colourblock All in One Ski Suit
Roomy fit colour patch pockets with gun metal zips and hardware (AVAILABLE). Sturdy shell fabric, snow proof and medium weight insulation, Made in Italy by 'SORRY' Yes you read that right. No apologies here.. This Mens / Unisex suit is perfect to accessorise with neon hats bold pattern ski bands & ski gloves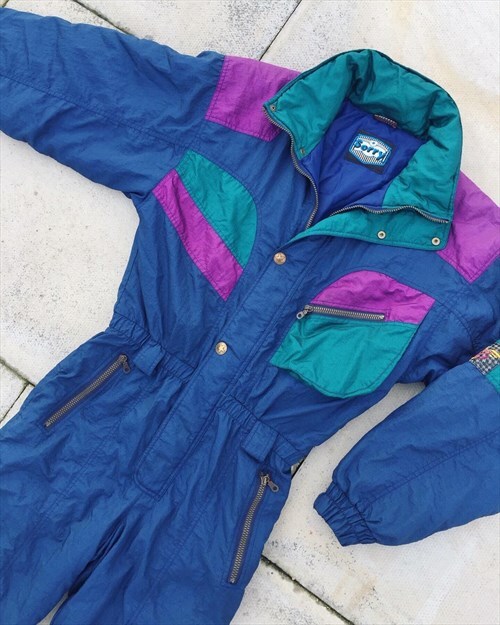 6. Dusky Rose N Peachy Florals by DIADORA
a SUPERB All in One womens ski suit complete with belt and cozy fleece collar in vibrant florals (Sold) LOVE the contrasting peach colourway here. This came in one day and left the next! No wonder. One of our Favest Top 10 Ski wear picks of Winter '21-'22

7. The Purple Quilted Dream Coat – FILA Magic Line Cira 1987
The inner lining coat from the famous FILA MAGIC LINE collection (AVAILABLE) The original design had 3 layers, with a fleece lining, quilted jacket inner (like this), and waterproof outer jacket. A complete piece in it's own right, this boxy fit lightweight snow jacket will layer well over bulky knitwear and fleeces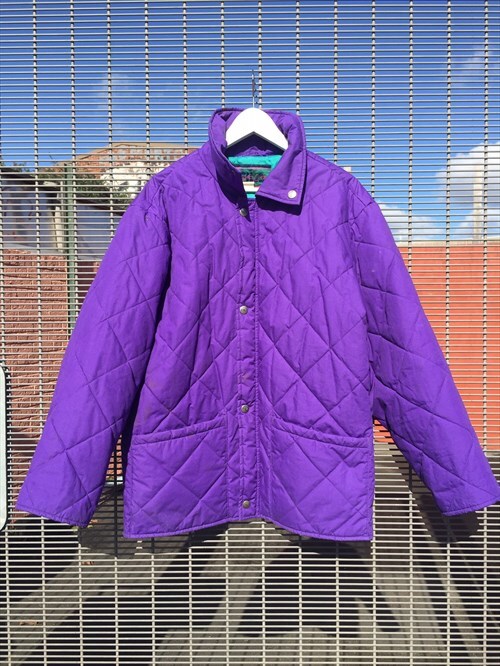 8. 90s meets Baroque
Super Rare 90s K-WAY Pullover Ski jacket fits womens M-L (AVAILABLE) with a roomy fit. 3/4 zip cool 'cigs'? sleeve pocket and lovely moire effect purple tones all over. Pair with Brooke Shields style (see our previous post) fluffy ear muffs and white leg warmers.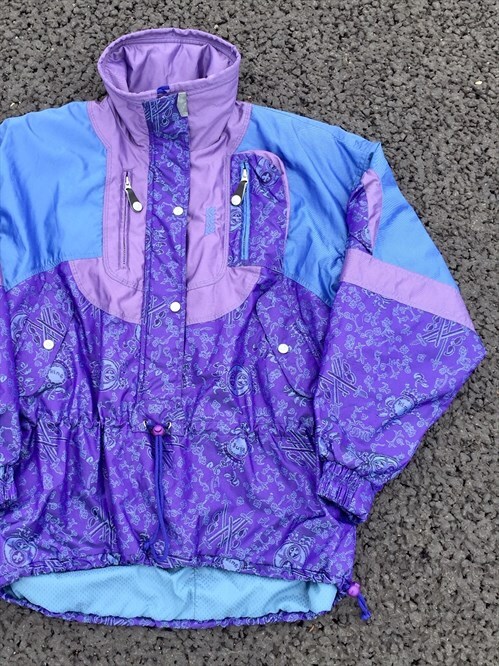 9. "The Moon Jim, but not as we know it"
Incredible technical one piece ski suit designed for Alpine adventures (Sold) Astronautical vibe, with a zillion pockets, concealed zips and contrast orange fleecy collar. A ski pass ticket from 1997 was still attached to one of the loops on the front.

10. Last but by no means Least
The CERRUTI RED. (Sold, sorry!) This suit lands mid way between a one piece snow suit and one of Laurie Anderson's industrial style performance jumpsuits. Perfect for inner city Day wear or on the Slopes.

The customer who bought this (from our IRL market stall in London) tried it on, Loved it so much she kept it on and walked off in it (after buying, ofc)! She was looking for a nicely insulated suit for regular daywear in the great outdoors, as she lives on a big (drafty) long boat and spends alot of time outside.
Most Vintage Snowsuits are dual purpose. If you work outside as a market trader, sail, grow vegetables or just like to be totally warm while out shopping or doing food deliveries, we highly advise you invest in a Vintage Snow suit they are a real game changer in the cold winter months!
If you've made it this far, I hope you've enjoyed Our Top Ten Ski wear picks of Winter '21-'22 – Vintage Snow suits & Ski Jackets
10 is a great round number, but in reality there are over 100 ski wear picks we could have chosen as 'Top' However i think that post woud've been just a tad tooo long
As a New Years treat we'd like to give you a 10% off discount code* to spend on any item in our Asos Market place boutique until 11:59 pm January 31/01. Yay! Details below:
To obtain the discount, first you need to follow us on "IG (at)Likneon":https://www.instagram.com/likneon/ then shoot us a dm to say "hi" choosing your favorite ski suit or jacket from this Blog post. choose a Number from 1 – 10 and include the Subtitle next to the corresponding number. Easy!
We will then unlock the code and shoot it over to you in a return dm on IG. *Valid for use only once and one per person. Happy Shopping!
Keep checking our store and IG(at)likneon for new skiwear gems arriving in over the next few weeks! don't forget to check OUR NEW YEARS SALE ON RIGHT NOW too! GET UP TO 30% OFF
Thanks again for reading, Stay safe, Stay WARM! ...Until next time x