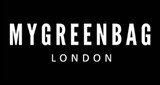 London, UK
Get 20% off with code SALE20 at checkout. My Green Bag brings together the best of London Street style...
New Year New You!
As we enter 2014 there are lots of new things to look forward too – the chance to start a fresh, to re-invent yourself.
We at MGB have been going through some changes too, our recent re-brand has been a great success and we hope that 2014 will give us the chance to expand further!
As some of you might have noticed MGB have changed their logo, this re-brand symbolised a turning point for the brand and we are very pleased that we took the decision to make these changes to our identity, the logo has a much cleaner, more luxury feel than the previous.
Our Packaging has also been developed and we are containing to work with our designer to improve this.
We created some special edition tags for the christmas period for our lovely customers over the festive season and the feedback we got throughout these few months were very positive.
You may have also noticed that our promotional material has vastly changed, our Graphic Designer has been working very hard to make sure that MGB has a recognisable brand and that all content that put out is very closely tied in together.
We are currently working on our new website so watch this space!
MGB are excited for the new style and products that are coming to the store! Leather Mini Square Satchels will be a big hit this season! Here is a cheeky preview of them!
We think 2014 is going to be an amazing year for us, and we hope that you guys make the most of the new year!
MGB are always looking for collaborators so get in touch!....
With all this newness even the boss got a haircut!
Isn't he the cutest.
Check back for more updates!
MGB x