VAT No: 158769745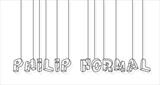 London, UK
Pop adventure. 45 Brixton Village SW9 8PR ! Artist collaborations. Awesome print. Instagram = @PHILIPNORMAL...
MARCH = CRAZY!!!
Hiyaaaa
OMG so much going on in March!
Here's a sneak preview of a shoot i did with the awesome @samneill_photo
Cedroc is wearing a piece from the new Horace collection, coming soon.
Here are a few pics of some pieces from a collection i am working on, unfortunately these 2 pieces have already sold, but more will be going online as soon as i make them! They're rather time consuming.
I'M SURE YOU'VE SEEN, but the new Daniel Palillo collection is awesome. And it's available now.
SO ANYWAY, i have to go. <3
Philip.