VAT No: GB 153127142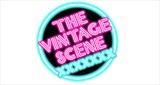 LINCOLNSHIRE, UK
On Trend & Rad....Follow us on Instagram @thevintagescene for updates on new stock and exclusive discounts...
Hot Summer Hot Hot Summer
In the words of the young knives, HOT SUMMER HOT HOT SUMMER! The perfect excuse to get some new threads and bare all? We think so!
.... So we were thinking Hawaii five O meets Miami Vice? Check out our store for a selection of sleeveless hawaiian shirts perfect for you ladies!