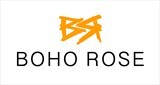 London, UK
Follow us on Insta @bohorose_1 // In-house designed & made swimwear, outfits & jewellery for sun...
70's Style Icons: Jerry Hall
Image: Google Images

Image: Jerry Hall: My Life in Pictures

Image: Google Images

Image: Google Images

Image: Google Images

70's Crochet Detail Sundress

Gold Button Tuxedo Blazer

Greige Slouch Boots

Studio 54 Mini Pleat Dress

70's Speckle Print Dress
Just thought I'd share the first in a long line of style icons, just because its always a great inspiration to look at those well dressed people of the past and present. In her 70's heyday, Jerry Hall was the epitome of glamour, with that polished goddess like Studio 54 look. Off duty though she carried off boyish preppy looks or a laid back tee and jeans with her must have Texan girl cowboy boots with just as much ease. Seeing as the 70's is THE style reference of the season we can look here and learn….
Just a little update from us; shoot organised for Friday which means lots of fantastic new stock in store next week! Lots of great pieces to be snapped up, including maxi dresses, Kimono tops and tribal kaftans…can't wait!