We are away from 29 Jan-12 Feb. Orders will be shipped 1, 7 & 13/14 Feb.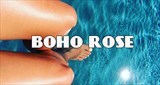 London, UK
Follow us on Insta @bohorose1 // In-house London designed & made swimwear, fashion & jewellery for...
It's Our Birthday!
Whoop! Its our 2nd Birthday and we want you to celebrate with us by having 15% off anything you choose in our ASOS Marketplace Boutique or website! Just enter promo code BIRTHDAY2 at checkout and see those £'s drop off!
Happy Shopping!