Top Rated Seller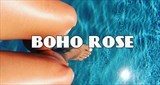 London, UK
Follow us on Insta @bohorose1 - Click the heart to Follow us here :) In-house London designed & made...
Party Time Earrings
Image: Google Images
Crystal Drop Earrings
I always loved these dangly sparklers worn by Blake Lively, so you can imagine my delight when I found these beauties on a buying trawl! The translucent crystal drops shimmer with a rainbow of colours and look expensive and fashion forward..perfect for party time. Just one vintage pair so grab them now!