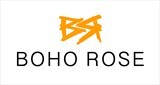 London, UK
Follow us on Insta @bohorose_1 // In-house designed & made swimwear, outfits & jewellery for sun...
S/S 13' Trends - Our SALE Picks from the Catwalk.

Balmain Geometric Prints / 80's Frank Usher Blazer NOW £19
Geometric prints in black and white or primary tones were all over the S/S 13' catwalks. Make a bold statement and cover up in this 1980's silky blazer.

Chloe Sheer White / 90's Sheer Blouse NOW £12.
Yet again, fashion has a love affair with sheer fabrics with all things white a hot favorite too. Wear this shirt in a 90's minimalist way with white trousers or a pencil skirt for a fresh 2013 look.

Gucci Emerald Green / 50's Green Dress NOW £16.50
Emerald green has been announced as THE colour for the new season. It was seen everywhere on the catwalks worn head to toe. Get in on the trend now with this gorgeous 1950's button down dress.

Michael Kors Stripes / 80's Striped Shorts NOW £12
We all love stripes, don't we? Bold stripes will be everywhere come Spring, and monochrome too! Satisfy your stripey cravings with these fab 1980's high waisted shorts!

Chloe Ruffles / 70's Monochrome Dress NOW £14.50
The ruffle, whether as a peplum at the waist, on the neckline or at the hem is a hot trend for S/S 13'. This 1970's dress combines the peplum, monochrome AND stripes – a triple trend wammy!

Proenza Schouler S/S Coats / 80's Dannimac Coat NOW £45
Coats are a real feature this S/S. Hot jewel colours are also big news. Sling this quality 1980's Dannimac coat over the shoulders to replicate this hot Proenza Schouler look.

Galliano Organza / 70's Frank Usher Dress NOW £16.80
Flowing shapes in light fabrics like silk and organza are set to create a buzz this season. The bold print and ruffled neckline on this dramatic 1970's dress are sure to make a statement.

Prada Samuri / 60's Shell Bracelet NOW £6
The Orient featured strongly on the catwalks, with Prada being the front runner with their Samuri inspired collection. Add a hint of the trend with this bracelet inscribed with Japanese characters.

Roberto Cavalli Lace / 60's Lace Neck Blouse NOW £15
It seems the trend for lace will never end – and we are glad! Lace is once again a must have and this lovely 60's blouse is an easy, every day way to wear it.
Don't forget to check the rest of our boutique for more sale wonders, the sale ends very soon so don't miss out! New season clothes and jewellery are being added each day too. Enjoy your new season shopping…BohoRose xx