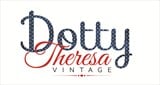 Ilford, UK
One woman's trash is Dotty Theresa's treasure! Welcome to the Vintage-Modern-Clash :)
The Leather Skirt
Welcome to Autumn vintage lovers! We reckon that our Indian summer is still on it's way and so we thought we'd introduce you to our butter soft, chocolate brown leather skirt called M I L L I E :
She's a 90's high waisted leather mini skirt with a detailed waistband and large pleats and pockets. She's great for the current season and can be worn in winter with tights and ankle boots.
She's a size S and available on ASOS Marketplace now!