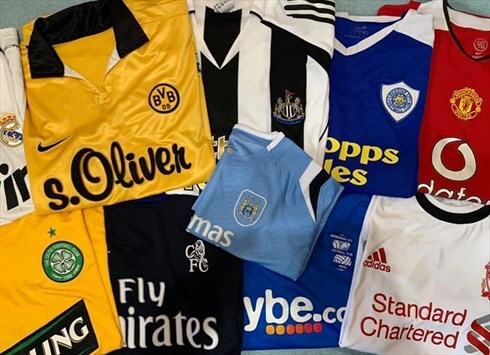 Sheffield, UK
Here at FootballShirtsHQ we offer a range of both national and international football shirts. Some are...
My top ten England shirts!
Following the release of the new England strip, it seemed appropriate to collect my favourite England shirts and discuss them here on my blog! So, here are my ten favourite shirts.
10. England 1980/1983 (H)

This shirt is beautiful! It is no surprise that is so popular and replicas are still in demand. Although iconic, I cannot put this shirt higher up the ranking since I do not have the same personal memories that I do with some of the other shirts on this list. The England squad at the time had some unbelievable players but I'm sure everyone agrees that we could, and should, have done better in the 1982 World Cup.
9. England 2018/2019 (A)

This design is simplistic and I do enjoy this shirt. However, the design is not why this shirt made the list! This shirt was worn when the England team, led by Gareth Southgate, had an outstanding World Cup. We, as fans, finally believed in our team. We thought it was COMING HOME!!! There was a buzz everywhere you went because everyone truly believed England could finally win the World Cup again! This shirt will always make me think of the results against Tunisia, Colombia & Sweden, and also finally winning a penalty shootout.
8. England 2003/2004 (H)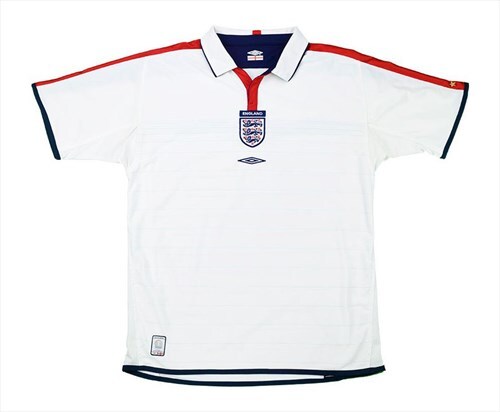 This is one of the first-ever shirts I had purchased for me soon after release. I had the long-sleeve version which is an absolute classic! This time saw the 'Golden Generation' of world-class players in the national team. At the back were two of the very best, John Terry and Rio Ferdinand. In the middle were Steven Gerrard and Frank Lampard with David Beckham on the right whipping balls in for fun. Finally, up top were Wayne Rooney and Michael Owen. A squad which was boastful of skill, passion and chemistry it's baffling how we never won a major tournament!
7. England 1999/2000 (H)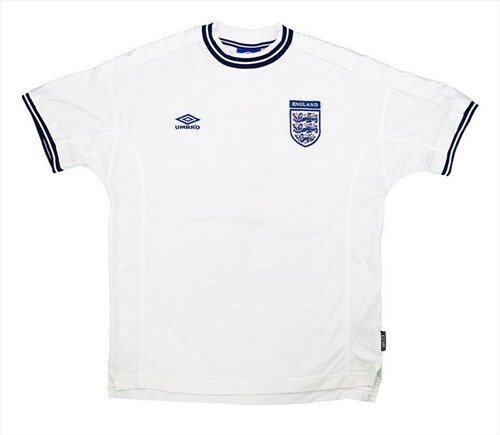 I think I must've played FIFA 2001 pretty much every day! Paul Scholes featured on the front of the battered game case. The shirt is a classic Umbro England shirt. Such a simplistic design. The collar is great as personally I LOVE a round collar on a football shirt. I luckily managed to find this a couple of years ago in a charity shop for £2! Can you believe it? Stil one of the best purchases of my life!
6. England 1990/1992 (H)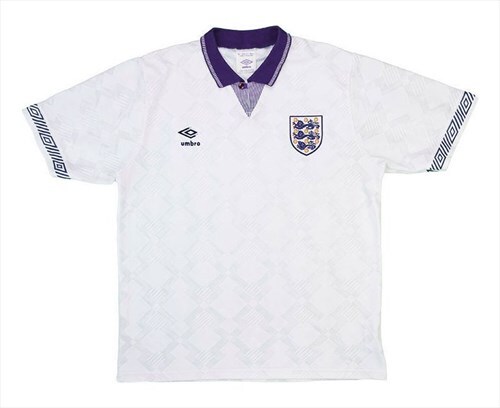 It was a tough choice deciding between the home and the away strip for 1990-1992 since both are cracking shirts! The pattern, in particular, looks so nice on white and stands out on a classic 90s Umbro kit. The numbering looks ace too as it is so bold being coloured bright red on the back.
5. England 1997/1999 (H)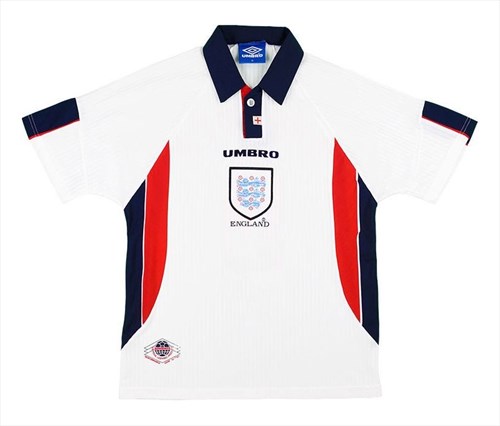 The 90s is definitely the best time for England shirts in my opinion. The patterns were next level as they were all so unique. This shirt is representative of young players and those that were changing and freshening up the England squad. This reminds me of a few things; seeing videos of that Michael Owen goal against Argentina as well as that kick that nearly ruined David Beckham's career and him getting sent off against Argentina. This ultimately ended in England getting beaten on penalties by them. Also, the placement of the 'Umbro' above the badge and then the number underneath both of these is a prominent feature of this shirt and one that I like very much.
4. England 1984/1986 (H)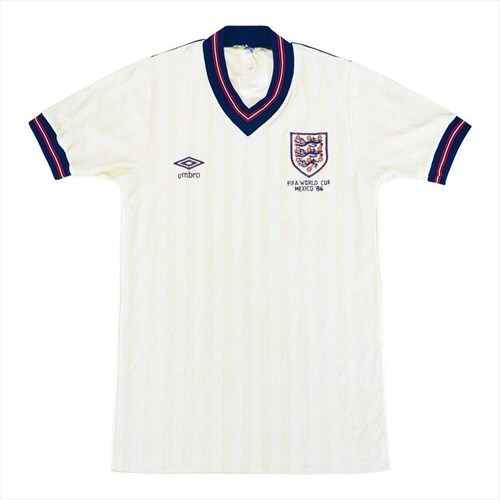 What a beauty of a shirt this is! An effortless sleek design with nothing fancy or in your face. The vertical stripes enveloped in the material of the strip are superb. The collar is amazing. I love the navy blue v-neck with the white stripe through it. This is fondly remembered for one of the biggest World Cup moments ever, The hand of God by Diego Maradona in the 1986 World Cup.
Now we are finally down to the top 3! Think you know which shirts I am going to put in third, second and first place?
3. England 1995/1996 (H)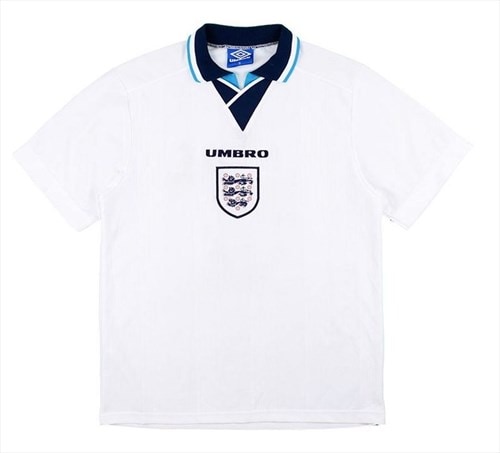 I know! Who am I to put this shirt third rather than first? Did you guess my top three incorrectly? The shirt itself adorned some beautiful bold navy blue and turquoise numbering. The shirt's collar was so smart. I think this stands up as one of the greatest ever England shirts released especially since it was worn by some iconic players. The most memorable moment I think in regards to this shirt is the bursting pride from Stuart Pearce after scoring that penalty in the quarter-final against Spain.
2. England 1994/1995 (A)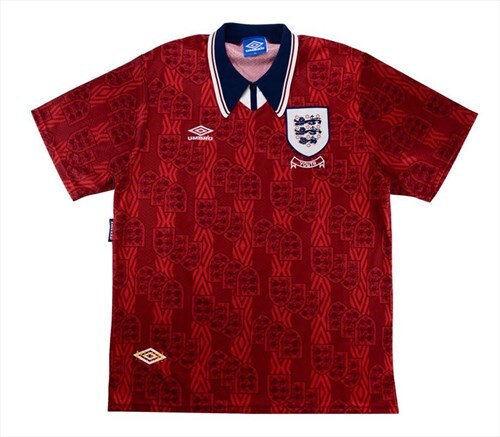 WOW! What a shirt this was! It screams 90s football fashion. Bold, Lairy and in your face! The patterns on it are phenomenal with the England badge going through the shirt. The big England badge in the corner just completes the overall look. If we were focused on design alone this would probably be placed first but it's not all about the look is it?
And my favourite England shirt ever is…
1. England 2001/2003 (H)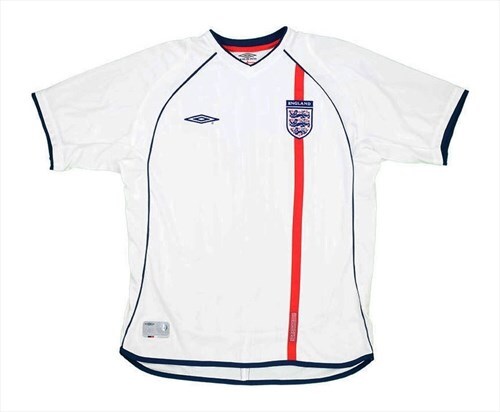 This may be a surprise to you but this is my favourite England shirt of all time! As a child I adored it. I wore this so often and my Dad was not impressed when I came home with mud all over it. I have so many good memories playing football in the park every weekend wearing this strip. That is why it is not always purely about the look of a shirt, my personal memories are what makes this so iconic to me. I also remember going to my Aunties to watch us win Germany 5-1 away. WHAT A NIGHT!
So, did you manage to guess my top three shirts or did my choices surprise you?