London, UK
Quillattire is real, it speaks the truth. It's streetwear with a sustainable twist. It represents the...
WHO HAS BEEN WATCHING SEX EDUCATION SEASON 2 ON NETFLIX- WARDROBES ON FLEEK?!
WHO HAS BEEN WATCHING SEX EDUCATION SEASON 2 ON NETFLIX- WARDROBES ON FLEEK?!
I have not been one to watch much TV but as of late i have been getting your orders ready and catching up on Admin after dinner and watching Sex Education on Netflix! OMG i am hooked :/ Such a colourful show that encourages us to speak about sex more openly. I am particularly enjoying the outfit choices! As a stylist myself hehe i am loving the colours – i to do dress very hip and happening, well i think i do anyway. Anyway enough about me, lets get straight to Eric Effiong's wardrobe played by Ncuti Gatwa :O totes in love, please feast your eyes to specimen A.


Specimen A – Purple Shell Suit Jacket with some coloured Trainers – OOTD
Following Eric's journey with his sexuality has been exciting see him evolve from a quite shy guy into someone who really comes out of his shell and embraces himself being gay – good for you Eric! One of Quillattire's moto's is 'I AM WHO I AM. YOU APPROVAL IS NOT NEEDED', basically do not care about what others think about you, be a good person, evolve and do you! This is why our clothing can be quite colourful, we love expressing ourselves with colour :) Back to Eric his journey of evolving at school includes his elaborate, cool, and hip outfits – always so loud and playful! Firstly Purple is my favourite colour and this shell suit bomber is to die for, check the one i up-cycled its lilac with a cool varsity theme and Rara Fring, introducing our Lilac Sports Vintage Jacket – yup its a special vintage pick of mine, and nobody has one, only you if you purchase ;) . Sex Education Stylist has paired the Purple Shell suit Jacket with a pair of stone washed denim jeans and multi coloured Kicks, something Bape would be loving. I particularly love the aztec multi coloured insert in the jacket, i want one!


Specimen B – Hey Hey Coral Shell Suit Jacket!
Oh hey Eric, love your Coral Shell Suit Jacket! Sex Education needs to hook Quillattire up for some garms, we have this uber cool Retro Leopard printed Bomber Jacket , same vibe but ours is louder – festival vibes, Coachella where you at! If you draw your eyes to Specimen B you will notice the aztec patterns, love a bit of aztec to add depth to the jacket. I am not too keen on Otis's jacket though, tad bit bland but i suppose he is meant to play a geek whereas as Eric is a super fly geek!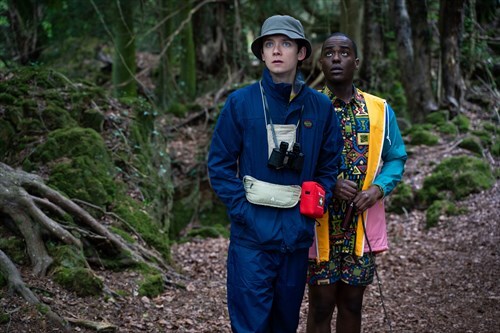 Specimen C – Eric and Otis go Cam;ing
Matching two piece Aztec Set for British Camping, is always great as the sun just follows you where you go.. Firstly the hooded rain jacket colour block is so great, teal baby blue mixed with baby pink and a pop of orange yellow inside – i need this in my life is what your thinking? Well if Eric's choices are to brave for you, how about you have a look at our Teal blue Wind breaker with a retro leopard printed mesh lining – yes thats right and guess what its reversible!!! Aztec life is the best life with Eric's matching two piece, shirt and shorts – yes you guessed it our version which is unisex btw just waiting on the pictures to be ready but feast your eyes on our two piece Retro shell suit to get everyones jaws dropping. Think Leopards, gold, aztec, checks from Vietman and sequins, mate have a look here theres only one of each made so grab whilst you can – just saying. Retro Shell suit Jacket and Shell Suit Leopard Bottoms the bottoms fit a M and the Jacket is a Large but fits S,M,L – Its relaxed and cool.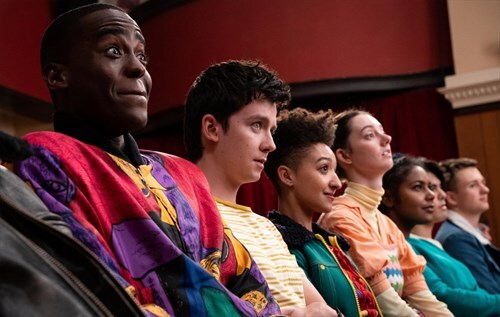 Specimen D – Multi Coloured Retro Jacket!
This jacket is the one, probably a vintage number from the 90s. Colour blocked with all sorts of fun going on. Its amazing how just one piece of clothing can help show someones mood and character. People who dress colourful are usually fun, confident, and not scared to be different – seems to be what Eric Effiong is doing. If you are loving this jacket then please feast your eyes to our over colourful Puffa Jacket , with all the colours and details – a defo head turner. We bring to you our Retro Printed Ski Puffa Jacket, sorry about the long name had to get the SEO in. Let us know what you think…? Now onto Specimen E the main event of this blog post….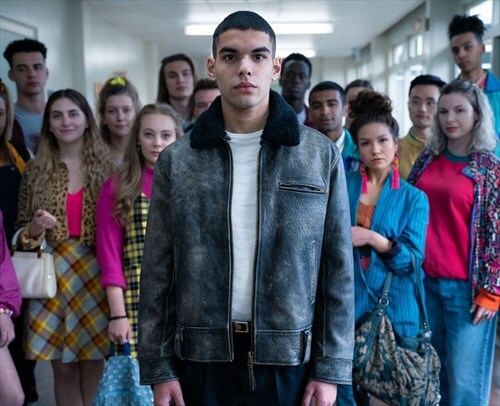 Rahim from Sex Education played by Sami Outalbali
O heyyyyy Rahimmmmmm! Doesn't he look like Drake? Dressed like a Parisian Prince! Love the scandi cool look, with the worn leather Shearling collar jacket, black clean tapered trousers and white t-shirt. It was sad seeing Rahim when Eric chose Adam Groff over him :( Sad times. Ok, back to the fashion, we have an uber cool Teddy Boy Harrington Jacket that would be right up Rahim's street ;) click the link to have a little looky. On our next post we will be talking about the style choices of Olya Nyman played by Patricia Allison and While Lily played by Tanya Reynolds.

Olya and While in all the colours <3