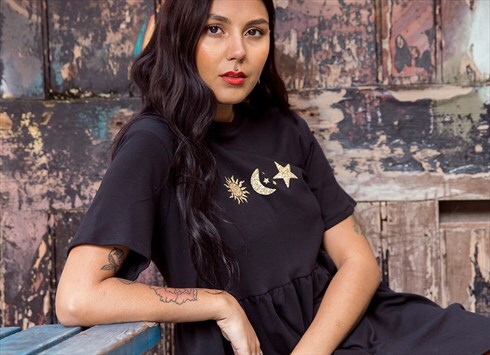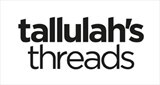 Worthing, UK
'Keeping you cute since 2014' We're Tallulah's Threads, an Indie Brand bringing you cute and colourful...
Meet Domesticated Youth
This year we started a new series of blog posts called Meet….. we LOVE discovering new gals with awesome style and can find ourselves lost for hours in an Instagram spiral of badass babes with pastel hair and glittery clothes (come on we've all done it!) So we thought why not make use of our time and get to know them a bit better!
Our very first was a few months ago where we got to know a little more about our Spring 17 model Jess Ayton aka Foxxtailz if you haven't read that post already, where have you been! Check it out here. Disclaimer, you will get serious hair envy!
This time we got chatting to the lovely Katie-Jo Watson aka Domesticated Youth about her style, shopping habits and a typical day for her.
How would you describe your style?
Like the front window of a charity shop; lots of old patterns and funky colours.
What's your typical day like?
I wish I had a typical day! I usually love to get up early and head down to a lil café to do some sketching or writing, if I have some spare time. Once it starts to get dark, I love to settle down with my laptop and maybe start a new series on Netflix.
What was the last thing you bought?
Some handmade flamingo earrings… I recently took a spontaneous trip to Edinburgh and ended up spending my time wondering around little vintage shops until I came across the coolest earrings ever.
Do you have a favourite band/musician?
It depends on the season! As summer is just around the corner, Tame Impala is totally my summer soundtrack… but if I'm feeling a lil bit more chilled then Mac Demarco is definitely my favourite musician.
What do you like to do in your spare time?
I love to draw, I often find myself designing tattoo ideas which I know I'll never be brave enough to actually get done.
If you could eat only one thing what would it be?
Raspberries, and everything raspberry flavoured. They're just the best thing ever.
Tell us 3 things on your 'Bucket List'?
My bucket list consists of places I want to visit. Number 1 is Glastonbury Festival, I can't wait for the chance to go. Number 2 is Vietnam… it just looks so beautiful. And number 3 is America, mostly New York, I can't wait to be able to visit.
We would love to know why you chose these pieces from our site?
The first piece I choose was the Glitter Cactus Tee, and omg it's the cutest t-shirt ever. It's so easy to style and goes with anything, I think the cactus really adds a cute element to your outfit.
The second item is the Pastel Unicorn Sweater… how beautiful! Nothing says you're ready for summer more than pastel colours. I like to tuck mine into a skirt to dress it up, or over wear it over a pair of black skinny jeans if I'm feeling cosy.
Go give Katie-Jo a follow on Instagram ( @domesticatedyouth ) and shop 15% off this weekend using code YOUTH