VAT No: GB 153127142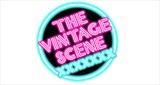 LINCOLNSHIRE, UK
On Trend & Rad....Follow us on Instagram @thevintagescene for updates on new stock and exclusive discounts...
Join The Tie Dye Revival!
Thank God the sun is finally out!
We have been waiting to sport our tie dye t-shirts for weeks but with the gloomy weather it just didn't feel right. Now the sun is finally back (hopefully for a while this time) we are in full tie dye revival mode!
Check out our tie dye t-shirts in store now all priced at a glorious £14 so no need to break the bank!
Don't forget free shipping on all additional items!